FEATURED ACCESSORIES
Ladders and Platforms
Mixing tank accessories are cost effective ways to save set up time, maintenance, or even accessibility of your equipment. We can construct large access platforms with ladders, cages, handrails, and floor grating from steel or FRP. Some of the previously fabricated systems have even incorporated mixer supports into the platform design as shown to the right.
Dipping Wetted Parts
Dipping wetted parts of a mixer is sometimes required when a mixer is going to be used in an extremely harsh environment. Coatings such as PVC, Rubber, Kynar, and Teflon are some examples of the more widely used materials. Call one of our tech's for question on how to acquire this on your new mixer.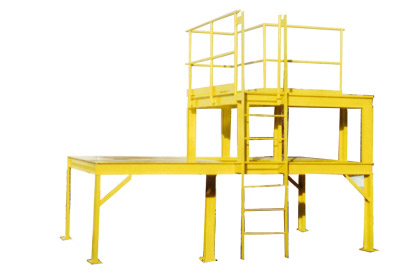 Tangent Piping
Occasionally, some application require the use of tangent mounted piping connections. Protectoplas offers a variety of flanges and couplings that can all be installed tangentially to your mixing tank. For more information on fittings click HERE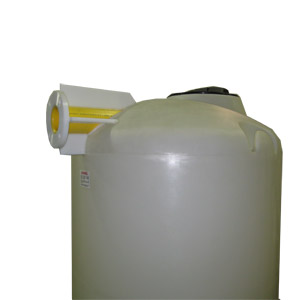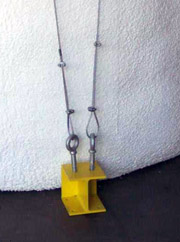 Hold Down Systems
Protectoplas offers several ways to keep your mixing tanks in place. Cable hold down systems can be used to keep tanks held into their stands, or they can be anchored to the floor to keep the entire system in its place. Plastic hold down clips can be welded to the sides of smaller sized tanks to provide the same movement restriction.
Top or Side Access
Manways allow you to view this internal parts of your tank. They are also use to enter the tank for maintenance or to add powder/pellet type materials to the mixture. Manways are available is several sizes and configurations. The most popular of these is the top hinged access which allows the operator quick access to the tank. Hinged manways can incorporate shoe box type lids, bolted/gasketed covers, or even weighted levers that allow the top to open if the tank is accidentally pressurized.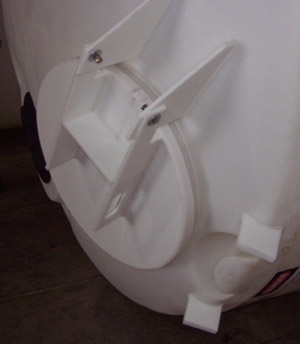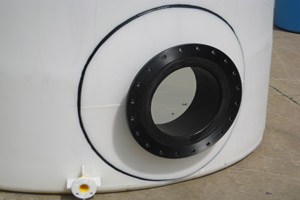 Have questions? Call now toll free 1-800-525-2661 to speak with a storage tank design specialist. In most cases we can save you money once we know more about your specific storage requirements.