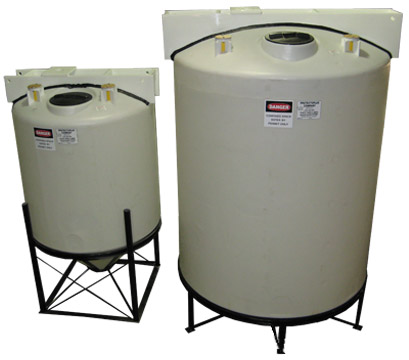 Mixing Bridges
Protectoplas has developed a versatile design and welding procedure to allow the use of all HDLPE (plastic) mixing support. The full top bridge is constructed of high grade HDLPE plate. The plate is machined to custom fit the top of your tank, and then welded using the Protectoplas welding standards. Mounting holes can be machined into the support plate in any configuration you may require, or you can use one of the several standard mounting configurations we support. This design also features several lifting points to allow quick and easy placement of your tank.
Bridges can be attached to any HDLPE tank we have to offer. Some situations involve a low ceiling height where a cone bottom tank and stand just won't fit. Many mining applications have been solved using a low and wide 5600 or 7000 gal tank with one of our mixer bridges.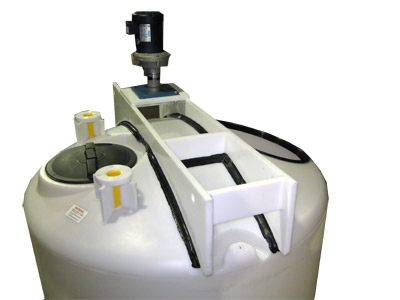 Bridges have cross member supports at several points for added strength. Our bridges can be welded at different angles to allow for fittings to be placed around the dome. The pictures shown on this page are examples of "offset vertical mount" style mixer location. This type of mount is used to save bering life, while achieving a good turnover in your tank. Any of our bridges can be set up to accept this style mount or any of the other styles including "vertical center mount" or "offset angular mount". Vertical center mount requires the use of baffle plates typically located on the tanks outer wall. Offset angular mount is usually found in small batch mixing tanks. Call a Protectoplas tank specialist to discuss your specific application.
Have questions? Call now 1-800-525-2661 to speak with a storage tank design specialist. In most cases we can save you money once we know more about your specific storage requirements.