Stands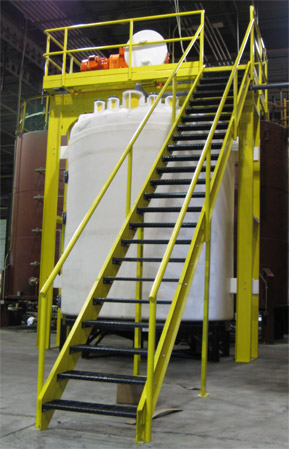 Having a good base to start out any project is always a good idea. Our standard cone bottom tank stands are powder coated mild steel, built for some of the toughest environments that are out there. They provide full bottom support for the tank, and can have anchor holes added for further stabalization.
Modifications
Stands can be modified or custom made to fit any application. Flat bottom or Cone bottom are both available. Generally modified stands usually consist of shortening or lenghtening the stand height, but other examples include adding forklift pockets for mobility, tank hold down clips, and double wall containment. The picture shown at the right is a custom mixing platform that was designed to incorporate a mixer support with the platform. It has a 40 hp, dual impeller mixer mounted to 140 in x 92 in access platform. Below is a steel stand that was modified to create a secondary contaiment unit with drain access.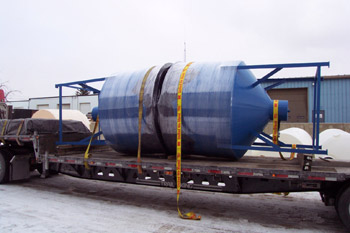 Pipe Legs
For smaller tank applications that require high corrosion resistance the pipe leg is a desirable support method. Many day tanks and pump feeding systems have incorporated these versatile accessories. Pipe legs can be fabricated out of a number of differant sized pipes including 2,3,4,and 6 in. pipe. Most applications also include "foot" pads which allow the unit to be bolted to a surface.In this picture below, we have a custom designed day tank. It has (3) pipe legs with footpads incorporated into it's design. some of the other features shown are the Raised Face WFN nozzles, a 1/2" thk flanged top, a 6" Raised Face WFN drain, 3/4" HDPE flang blanks, and wide leg support gussets. for more information on how to aquire one of these items, or if you have any questions just give us a call at 800.525.2661.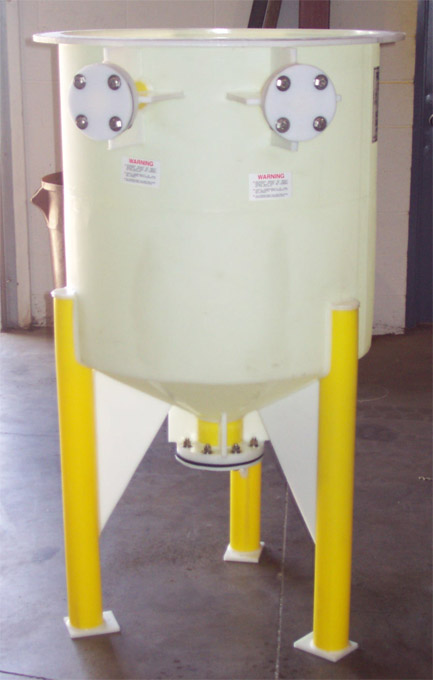 Have questions? Call now toll free 1-800-525-2661 to speak with a storage tank design specialist. In most cases we can save you money once we know more about your specific storage requirements.